Fitbit Aria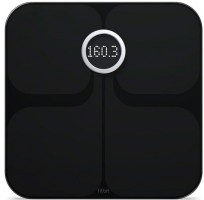 Aria
Price in India and USA
Rs.9,990.00
129.95 USD
Announced Date

April 9, 2012
Fitbit released a "Wi-Fi smart scale" called the Fitbit Aria. It recognises users who are wearing Fitbit trackers and measures weight, body mass index (BMI) and percentage of body fat of the user.
Fitbit Aria Key Features
● Accurately track your weight, percent body fat, and Body Mass Index (BMI) online
● Upload your stats automatically via wi-fi to fitbit.com to see graphs of your progress
● This item is compatible with 802.11b wifi
● Weight and BMI: Four load cells measure weight
● The scale measures body mass using bioimpedance analysis.
Fitbit Aria Full Specifications
Hardware

Dimensions

312 x 33 x 312 mm

Material

Tampered glass platform, ABS bottom housing

Water Resistance

Yes

Display

Technology

Backlit LCD display