Sennheiser PXC 550 wireless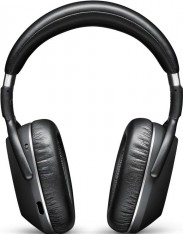 PXC 550 wireless
Price in India and USA
Rs.29,990.00
499.00 USD
Announced Date

August 1, 2016
Launch Date

August 1, 2016
Sennheiser PXC 550 Wireless is a wireless headphones with richer and more immersive sound. It offers a smart travel experience that combines supreme ease of use with features that discretely anticipate the needs.
Sennheiser PXC 550 wireless Key Features
● Touch senisitive trackpad
● Built-In Timer
● Compatible with CapTune
● Fold Control - aniticipates your need by powering on as you unfold it
● Comes with cable with inline remote control, carry case, USB cable, IFE adapters.
Sennheiser PXC 550 wireless Full Specifications
Connectivity

Bluetooth Version

4.2

NFC

Yes

Hardware

Colour

Black

Type

Headband style

Material

High Quality Plastic

Weight

227 g

Audio

Impedance

46 Ohm

Sensitivity

100 dB

Frequency Range

17 - 23000 Hz

Cable Length

1.2 m